As of late, I have been without energy for any kind of crafting which is highly unlike me. Granted my main problem has been because of health issues and not because of crafting fatigue.
I needed a little push back into the excitement of crafting. Enter: Vacation. A very much needed vacation has given me my focus back. Could use a little more help in the energy department, but none the less I am ready to start projects I have been needing to finish. But first, I wanted to share with you why I had such a great time on vacation in pictures.
Enter: Husband with Camera, "Paramount Ranch" aka "Dr Quinn Western Town", Fun Boots, Handmade Skirt, Hand Sewn Lace, Vintage Props, Jewelry, and crocheted shawl.
Taken at the Train Depot from Dr. Quinn Medicine Woman, this shot turned out so fun.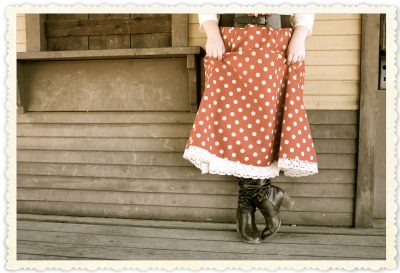 I did learn that sewing clothes is not my forte, however in spite my clumsy self, it turned out pretty good at least for the photos. I bought the fabric for this skirt with a vision in mind. But first This fabric needed a little something extra. SOOO....with the help of loose tea and a pot of boiling water, I ended up tea dyeing the fabric to get rid of the Minny Mouse feel and turn it into a retro feel. Hopefully it did the job.
I am a "Dr. Quinn Medicine Woman" fan and when I found out we could visit the set where they filmed I was ecstatic! I hope you thought these photos were fun. I am very excited to show you the rest in the next post.